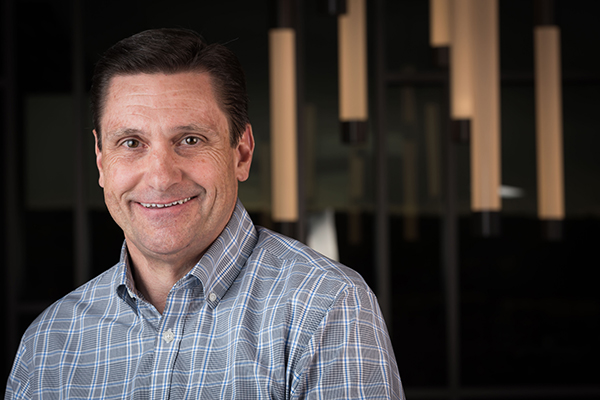 Jeff Follansbee had the privilege of being born and raised in a Christian home. He grew up believing in Christ as his Lord and savior; however once he got married and later became a father his relationship with God grew deeper. Jeff sums up his walk with Christ by saying, "I've been led to Christ my whole life. I followed him for a long while with periods of "hot" and "cold", but I found him in the late 80s/early 90s and cemented the relationship in 2004 via a second baptism."
Jeff and his wife Brenda have been married for 29 years. Jeff loves to ski and they both enjoy golfing, serving together on the guest services team and visiting the mountains. They have two sons. Their oldest son, Clark, graduated from the Air Force Academy and is now in pilot training school at Sheppard Air Force Base in Wichita Falls, TX. Blake is a business and finance major at the University of Colorado, Colorado Springs. "It was a wonderful experience witnessing our oldest son baptize his younger brother." Jeff and Brenda are thankful both of they boys are Christians and have continued in their faith throughout the trying college years.
Jeff and Brenda have been members of Southeast for 11 years. Both have served in several ministry areas. Jeff's passion is the prayer ministry, where he continues to be committed to strengthening the prayer team, serving this church and its members through the power of prayer, and continuing to grow the ministry so as to continue to connect people with our God through prayer. Brenda's passion is young mothers. She is a mentor mom through Moms TLC and is committed to strengthening marriages, moms and families through a deeper relationship with Christ.
Jeff feels humbled to have been nominated to be an elder. When asked why he wants to be an elder, Jeff said, "I feel God is calling me to be an elder because he's blessed me with the gift of leadership. I truly believe to lead is to serve and God is calling me to serve in this capacity. To serve as an elder is both humbling and exciting". Jeff and Brenda are eager to witness God's handiwork as they commit themselves to serving Southeast Christian Church, all those who walk through its doors and the community the church serves and touches daily.