OUR STORY
Early 1972
Southeast Christian Church's story began at a dining room table, through the vision of a small community of young families: "Let's plant a church". These five families united their forces, their resources, and their prayers, and they set out to find a brave pastor who would lead them in planting a church in the area southeast of Denver.
Meanwhile, in a small town in Julesburg, Colorado, Russ and Bev McCracken were asking God to lead and guide them. They were content in their ministry to the rural, small town community, but they sought God's best for them. As they knelt together in prayer, the phone rang. A representative from the search committee had called to ask: "Have you ever thought of planting a church? Would you be interested in joining us?"
The timing was astonishing. Russ and Bev's conversation with the Lord was—quite literally—interrupted with an answer. Young and spry, prayerful and equipped, the McCrackens said yes. They stepped out of their small town and into the land unknown: ministry in 'the city'.
---
July 1972
With a congregation of 25 people, including all the children, Southeast Christian Church began to meet in a small chapel on the campus of the University of Denver. With almost no money in the bank and no profound strategy, there were plenty of reasons to doubt.
But our church had faith, dedication, and a vision: by God's grace, we can become a church of 1,000. The women took turns teaching Sunday school, and the men pooled their leadership skills and gifts. Believing in what we could not see, this church family served one day at a time. Hand in hand, we took risks for the mission we believed in: "Reaching the lost, and building up the saints".
---
October 1972
Three months after the first Sunday, the fledgling church community moved into Walnut Hills Elementary School, near Arapahoe and I-25. There was no rent to pay, just the promise to clean up every Sunday. With a congregation of 40-50, everyone did their part. Families loaded the trunks of their cars with the items necessary for Sunday morning: hymnals, communion elements, and nursery toys. Pastor Russ preached under the basketball hoop in the gymnasium, and each week, a team of volunteers set up and tore down the nuts and bolts of the church.
Walnut Hills Elementary School became the church's home for 2 ½ years, and the community grew in love and relationships: the foundation of Southeast Christian Church. Southeast hosted a Vacation Bible School for more than 200 children in the community, and the church leaders visited more than 2,000 homes, door to door. Home visits fostered trust and friendships, and the congregation began to grow.
The young church thanked God in advance, believing that faith is persisting when we cannot see the plan. And God had great plans in store.
---
1975
As our church family grew, we needed more room. We searched for land and chose to purchase five acres on Dayton Street. We built our building in 1975, and moved in with an average attendance of 92 people. The church expanded its staff and services; we added a youth pastor and a church secretary, and we offered multiple service times on Sunday mornings.
In the season of "worship wars" across the Christian evangelical community, Southeast took a progressive, cutting edge approach: we added an electric piano and drums to our worship scene. One week even included a drum solo performed by a "hippie" member of the congregation—such audacity was unheard of in the Christian church! But the church family loved Steve, and they embraced his style of worship.
For many churches in that era, such profound changes in worship "styles" proved to be divisive and crippling to the community. But relationships have always been a hallmark of Southeast. While some resisted change, they knew their leaders well. Those relationships had built trust, and trust smoothed transitions.
---
1993
By 1993, Southeast was a greenhouse of growth and change. We had chosen and elected an elder board, a framework of leadership that would continue. We had launched the first preschool, demonstrating our values for education and ministry to the young families of the community. We had initiated the church's outreach ministry that would later grow into SECOR. Further, we had cultivated the church's heart for international missions, a focus that would ultimately become part of Southeast's DNA.
After three building programs, remodels, and transitions, the church was land-locked once again. With an attendance of nearly 450, we prepared to relocate. Such a move required new courage and greater faith, and many feared they would lose much of the congregation in the journey. Still, the church belonged to the Lord. In the face of another transition, the leadership affirmed their commitment to what had always been true: serve the Lord without holding back, and love these people one day at a time.
---
1998
When Cherry Creek Academy officially purchased our building in 1998, our new church home was not yet ready for its coronation day. So, the community of Southeast and the population of Cherry Creek Academy partnered together for a compromise that suited both: trading spaces. For three months, our church met in the old school with creaking floors and a leaking roof—it often rained inside! The church community returned to its roots of Sunday morning manual labor; week after week, the congregation of 600 people cooperated to set up and tear down. Morale remained high, attendance was stable, and the church family bonded over yet another chapter in the story.
November
After three months in the "wilderness", the church prepared to "Cross the Jordan" Road. We envisioned a move to a hilltop property, where we could claim a welcoming presence in the city. Instead, God guided us to a property further south, at a lower altitude—where the people were. On Groundbreaking Day, they moved cattle aside to drive the shovel into the ground! After 25 years in the Dayton Street location, these 15 acres near Challenger Park would be the new home for Southeast Christian Church.
---
2001
Our church has always had a heart for the young families and children of the community, and we have accommodated to make room for what we value most.
In 2001, Southeast expanded by opening the North Wing, the home for children's Christian education. Jordan Road Christian School began meeting in that space, which is now Southeast Christian School.
---
2002
In 2002, Southeast's congregation met the vision of the earliest founding families: we had become a church of 1,000. Russ McCracken, the church's shepherding pastor, chose to step down from his role as lead pastor, choosing instead to lean into his relational gifts.
Todd Hudson moved his family across the country to Colorado, and he became Southeast's new lead pastor. With strategy born from his experience with a large church, Todd committed to lead Southeast Christian Church in the next steps of our journey, all for the glory of God.
---
2005
For years, the community of Southeast met in a tent on Easter morning. The tradition had pros and cons: the larger capacity allowed the entire church family to meet at one time in one service, instead of five or six. But, invariably, snow arrived on Easter morning! The tent adventure made for a cold morning on folding chairs with space heaters!
In March, we celebrated Easter morning in the new worship center where the congregation now gathers every weekend. In the beginning, there was room for everyone—the auditorium seemed so big! The new facility allowed space, promise, room for the church to continue to grow—and heat on Easter morning!
---
2011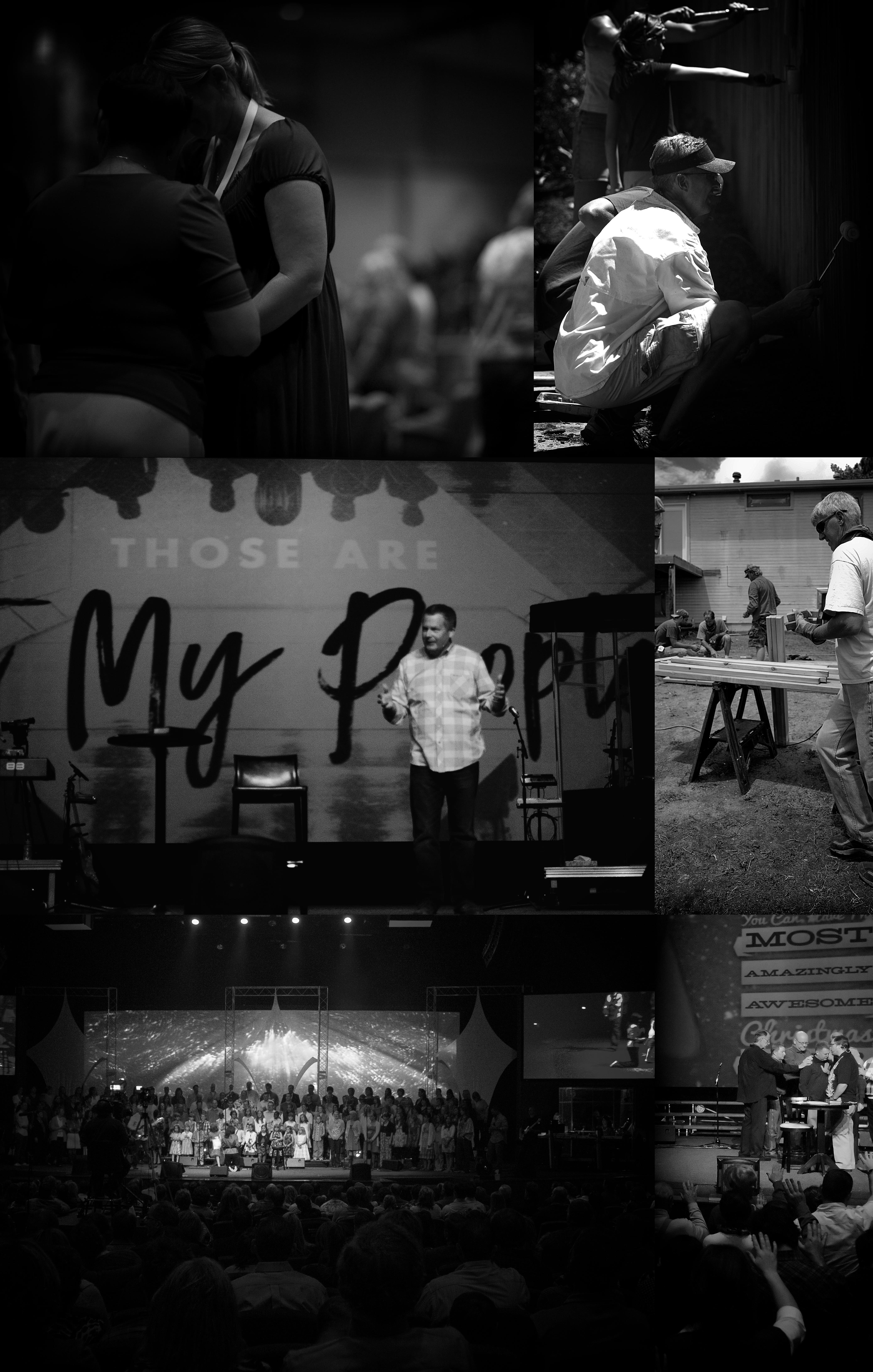 When Todd Hudson left to pursue a new calling, Phil Vaughan left his staff role of Pastor of Spiritual Formation and stepped in to lead and serve as our new Lead Pastor. Together we invested in becoming a community of daily disciples, investing relationally in each other and in those who don't know Jesus, using what we have to change the world.
In 2014, Southeast Christian Church donated an undeveloped portion of our property, on the northwest corner of Jordan and Pine, to the Solomon Foundation, in return for unlimited future use (into perpetuity) of parking spaces on the paved lot for our weekend services, and a low-cost lease of offices for our 45-person staff as well as meeting facilities for our student ministry events and other large group ministry environments.